Light After Death
A summary of an exhibition featuring photographs and texts reflecting on various aspects of bereavement. First exhibited in London in 2005.
Introduction
Before my Mother's death in 2000 I used to think about bereavement with a degree of fear and anxiety. Her death was the one I feared the most. It was indeed painful and perplexing at times, but choosing to explore and embrace what it brought up made it a surprisingly rich experience, as much about growth and peace as loss and pain.
In 2004 when Geoff Warburton, director of Southwark Bereavement Care, approached me to discuss the possibility of an exhibition exploring the light, life and joy possible after bereavement I was initially a bit taken aback. Light, life and joy are not things one normally associates with death but I was also excited, challenged, and above all curious about what could be created.
The collaboration with Southwark Bereavement Care was quite unlike any project I have ever taken on. This is partly to do with the highly sensitive nature of the subject, but it was mostly to do with the pleasure of working with Geoff. We had so many fascinating discussions at critical points of reflection and decision.
The images and texts created for the exhibition were part of an exploration. The exhibition was not intended to be either comprehensive or definitive. We merely hoped we could provide some illumination and food for thought.
Robert Taylor
Photographer
February July 2013
Postscript from Geoff Warburton
"The wonderful adventure of working with Robert on this exhibition strengthened my faith in the idea that grief can become an adventure of life. I went on to develop this idea in a TED talk about grief " :
http://bit.ly/XTucJq
Sun
Detail from Sun, a cast glass sculpture by Angela Thwaites. The piece was originally inspired by a complex set of themes related to landscape but has become something of a celebration of light and warmth.
Light: that which stimulates sight and make things visible.
A Sculpture in Memory of the Life of Damilola Taylor – Created by Alex Brooke
Damilola Taylors death on the North Peckham Estate in South East London was one of 2000s biggest national news stories. At the time of his death Damilola had been attending the Oliver Goldsmith School for only three months and had yet to get the hang of things on the tough streets of Peckham. The senseless killing of a young black child with so much ahead of him had a big impact in the area, particularly amongst parents and families in the local African and Afro Caribbean communities. It was a powerful symbol, a point of focus for their anxieties about the many ways in which their children's prospects seem threatened or compromised by complex hostile forces beyond their control.
Mark Parsons, the Head Teacher at the school, wanted to create a permanent memorial to Damilola. He contacted the nearby Camberwell College of Arts and it was agreed that a number of students would be invited to submit designs to the school governors. Three models were made and a single winner chosen. The sculpture by Alex Brooke funded by the Community Chest and endorsed by Damilola's father – now stands just outside the school.
Alex, then a 19 year old art student, wanted the sculpture to incorporate symbols of hope, regeneration and new life whilst also making reference to the theme of birds which often crops up in the folktales and tribal art of Nigeria, Damilola's birthplace. The phoenix-like rising bird set in a circle does this with an elegant economy of gesture.
There is a dilemma for Mark Parsons and his team at Oliver Goldsmith School. How to do enough in commemorating Damilola and what happened to him to satisfy the sensibilities and aspirations of his family and the local community, whilst not making so much of it that excessive fears, anxieties and concerns are generated amongst the children at the school.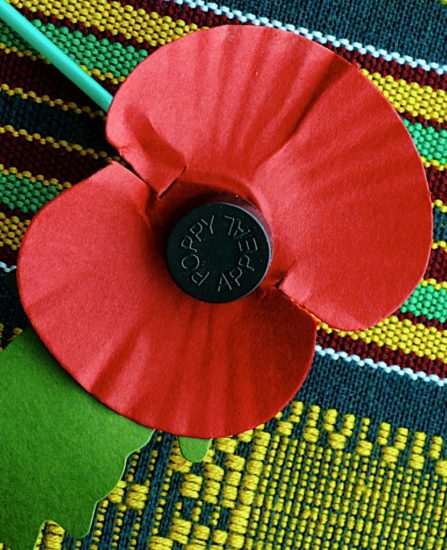 Poppy on Kente Cloth*
Every November on Remembrance Sunday special services are held at war memorials and churches all over Britain. A national ceremony takes place at the Cenotaph in Whitehall, London, in memory of the men and women who were killed during the two World Wars and other conflicts.
I served in the British Royal Air Force in the 1970s. Over twenty years later, quite by chance, I met some West Indian World War ll Army veterans at a tiny exhibition at the Imperial War Museum about the African, Asian and West Indian contributions to the British war effort. One of the men had actually served in the British army during World War Two with my late Jamaican grandfather. When they found out about my military past they insisted that I join them at the Cenotaph in Whitehall at the next Remembrance Sunday ceremony. Before that time I had never given much thought to the sacrifices of those killed in conflict and had certainly never though of marching down Whitehall as part of a contingent of black ex-servicemen. I used to attend Quaker Meetings and tend towards pacifism. What on earth would I be doing there? I was finally persuaded when they made it clear that it was really important for them that there was the possibility of a continued black presence at these kinds of events after they had died. They were worried in case people forgot that the fight against Hitler and all that he stood for was won with the help of all sorts of people who dont fit the stereotype of the brave white war hero depicted in historical film, fiction and documentary.
To my great surprise and relief we got a very warm welcome from the crowds as we marched around the streets of Whitehall. I felt immensely proud, very emotional and powerfully present to the memory of my late grandfather and his distinguished war service.
Robert Taylor
* Kente is an Asante ceremonial hand-woven cloth from Ghana, West Africa.
Summoning Spirits
To most people in Britain a sance is seen as a rather quaint event in which a medium attempts to make contact with the dead. It has fallen out of favour, partly due to associations with fraud. The term still has great currency in certain cultures across the world. The spirit of the deceased person can be called in many ways including fasting, ecstatic dancing and drumming.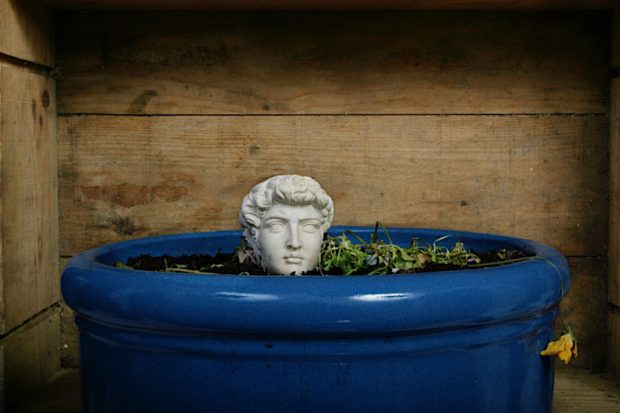 David Growing Amongst the Pansies
Richard Pantlin, the creator of these compositions, first encountered the original sculpture of Michelangelo's David as a child during a family holiday in Italy. A scale model was purchased and was a prominent fixture in Richards domestic setting for many years. The models head is featured here. Richard came out as Gay in his 20s and the model took on a new meaning for him as a rather uncomfortable kind of gay icon. In more recent times Richards gayness has withered and he has moved on, although he has no wish to deny his past or break links with his gay network. He eventually destroyed the sculpture, but against all odds its head survived and he decided to keep it and let it evolve as a symbol. Planting it amongst the bright luxuriant and oddly protective environment of the petals of pansies in full bloom opens up a number of possible interpretations for a man looking back on a previous identity. He grew into manhood and first expressed his masculinity amongst gay men. It was amongst gay men in the 1980s that he witnessed illness and death on a massive scale in the wake of AIDS. It was also amongst gay men that he experienced the joys of sexual intimacy and a powerful sense of community for the first time.
Siam Kee Bereavement from a Buddhist perspective
Siam Key, A 34 (at the time of this photo) year old widow originally from China but now settled in London had been studying Buddhism for 15 years before she got married. When her Husband died after only five months of married life together she really got the meaning of the Buddhist tenet that nothing is permanent. She sees his life and unexpected death as offering her an opportunity to learn something. She believes that she can only get to the next level of Buddhism by learning not to be over attached to love or a love object. She still feels the loss of her husband, but she is clear that her Buddhist understanding and acceptance of the loss allows her to be truly peaceful.
Flower – A Glass Sculpture by Angela Thwaites
According to Angela the sort of flower that would stand up to a force 10 gale.
Butterflies
These creatures are part of the collection held at The Oxford University Natural History Museum. Long dead but still radiant.
The Garden at London Lighthouse
The London Lighthouse is very aptly named. From its creation in 1987 the project shone a bright light that helped many during the raging storms of the early days of HIV/AIDS.
The group responsible for creating the project included several counsellors who had been working with issues related to gay mens health, and gay mens ways of dealing with death. The emergence of HIV/AIDS brought these two crashing together. There were a great number of horrific HIV/AIDS related deaths in hospitals in a general atmosphere of fear and ignorance. Sick vulnerable people mostly from a fairly marginalised and misunderstood community – were being handled with gloves, kept in isolation and widely judged as partly or wholly responsible for their plight. Paradoxically, for many the nightmare was compounded by those same people often being kept alive much longer than they wanted to be, in ways that they would not have chosen in a more sympathetic and sensitive medical environment.
Back in the early 80s the prospects for those living with HIV/AIDS were very bleak. The Lighthouse was created as a place where amongst other things people could die with dignity and respect whatever their sexuality, race or drug usage. It was a safe non-judgmental place with an informal atmosphere. A home from home for medical treatment. The sick and dying got to exercise some control over the circumstances of their treatment. Where recovery was not possible many were taken safely and relatively peacefully to dignified deaths with the opportunity for their loved ones to be around them if that was desired.
The sense of light and refuge in a storm extended well beyond the medical regime to the many detailed aspects of the design and fabric of the building. It has attracted many awards. One award winning part of the site that remains as much a focal point today as it was from the start of the project in 1987 is the garden. It was created, and is still lovingly maintained by volunteers under the stewardship of Gary Eisenhower . Its key features include the sense of shelter, safety and calm that it generates for visitors. Its a place for people to come and enjoy themselves, whether in solitary contemplative mode or in company. Being in such a physically sheltered spot it can sustain an enormous variety of plants including bananas trees, kiwis and even some citrus trees. Now that the Lighthouse is no longer a hospice and much more of a drop in centre the garden in combination with the adjacent cafeteria – attracts a range visitors, many with no immediate connection with HIV/AIDS at all.
This is a brief summary of the reflections of three people closely associated with London Lighthouse. Geoff Warburton who was part of the original team setting up the London Lighthouse. Michael Edwards has had a long association with the project originally as part of the residential services team and currently as Head of Reception Services. Gary Eisenhower has been the Garden Coordinator at the Lighthouse since 1988.
Scattering the Ashes …
Rotimi Fani-Kayode Photographer 1955-1989 – A Continuing Inspiration
This exhibition makes me think about lots of special people Ive known who are no longer alive. The memory of one particular person sticks out in the context of photography. Rotimi was a beautiful man in many senses of the word. He was a friend and a great inspiration at a time when photography was merely a hobby. It was after meeting Rotimi and exploring his photography and ways of working that I saw something for myself and became a photographer.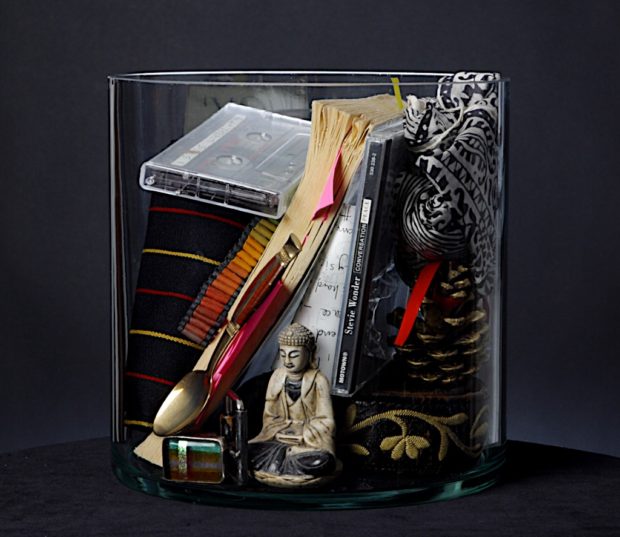 Memory Box
A memory box can be a means of creating precious memories of a loved one who has died. Theres no limit to the range of things one might collect basically anything that provides a tangible way to remember someone. An organisation that specialises in helping with the creation of memory boxes for bereaved parents of babies who have died is Joshuas Boxes. This glass container is my version for my mother. (http://www.joshuasboxes.co.uk)
Beauty
We seem to be becoming more and more gripped by an obsession with physical appearance and the maintenance of youthful beauty. Some regard life beyond particular milestone ages as a kind of living death. Tony Fields (74 at the time of this photo) is a delightful exception. He was featured in an article in GAY TIMES magazine exploring and celebrating real bodies. He and a number of other men of various ages posed naked for the camera and discussed their feelings about their bodies best and least loved parts. An interesting alternative to the more usual sights in contemporary magazines.
Bereavement Counselling
Bereavement Counselling is about creating a safe confidential non-judgmental space for people to talk about their greatest fears, the things they may not be able to say elsewhere. Its often the case that the relations and friends of a person who has died grieve differently. There may be tensions or problems related to a lack of understanding in the very networks where uncomplicated support is expected.
The counselling relationship is a very special one. It relies on trust. It is quite a one-sided relationship in the sense that the person being counselled knows very little about the counsellor, and the counsellor has had no relationship with the deceased person.
Stepping Out
After the ending of a relationship whether by death or separation it takes courage to get out there again and engage with the world, particularly at an intimate level.

Om
This floral arrangement was created at an Asian owned North London florist to be part of the funeral arrangements for a Hindu funeral. It shows the Om (or Aum) sign, the main symbol of Hinduism. The Om sign signifies God, Creation, & the One-ness of all creation. Most religions indicate that creation began with sound. In the beginning was the word… For the Hindus and Buddhists, Om is the primordial sound, the first breath of creation, the vibration that ensures existence.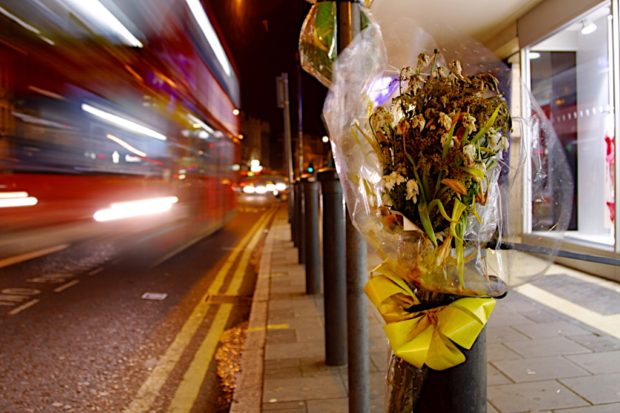 Floral Tribute
It is now relatively common for informal floral tributes to be used to commemorate the lives of those killed in road accidents and street crimes. The deceased person in this instance is still very much in someones thoughts. The bunch of flowers on this particular lamp-post on the Walworth road in south east London has been regularly replaced for the last four years.
The Crucifixion
For many millions of Christians the crucifixion and resurrection of Christ represent the ultimate example of light after death.
Massage
Massage can be good for both bodily and spiritual wellbeing. In bereavement we often collect and hold onto certain emotions in the body which manifest in certain places. Massage can help with the release of such tension. Another common phenomenon among the bereaved is the sudden loss of the comfort of intimate touch from the deceased. For others a really good massage can provide a much needed emotional release, or even a helpful meeting point for the host of physical and spiritual challenges they may be dealing with.
The technique used in contemporary Chavutti massage was first practiced in Karali in South India. Smooth powerful strokes with the foot are applied along the body. The practitioner balances by suspending himself from a large frame. Apart from the inherent benefits of a massage for the recipient, the practitioner avoids the kind of repetitive strain injury to which many conventional masseurs are so prone.
Refugee – Shifting Identities
If youve been forced to leave your country in order to escape war, persecution or natural disaster your loss may be multi-faceted. This is often a devastating experience, particularly if you have lost loved ones in the process. For some in time – the new range of possibilities for identity, relationship and occupation can be as exciting as they are challenging.
Bringing Light
The Jews light candles as a symbol of the light of the soul –as do so many other cultures. I remember when my father died that I could literally feel that his light had disappeared from the world and it seemed a darker place. To light a candle in memory of someone is to honour their flame, the way it illuminated our life, and the way it continues to do so even when it flickers and burns out.
Dr. Dina Glouberma
Transparent
Sufism is an eastern mystical tradition that has its roots in Islam. The spiritual path of the sufi involves raising awareness of the illusion that we are our bodies. It is believed that once we do this, we are able to see through to a universal light that we are all part of and the body becomes transparent to this light.
Determined
My brother, Christopher, died in an accident a few months before this exhibition. Christopher inspired me to embrace life fully and not take it too seriously. I trained for the London Marathon in honour of him determined to align myself with life and living, determined that the pain of losing him inspire me to action not apathy. Geoff Warburton.
The images for the final three reflections belowcannot be posted now.

Neil Fiddler and Deefer
The image of Neil and his dog Deefer was taken in the mid 90s.
Neil and Deefer were together for 15 years. They first met briefly in a pet shop. Neils ex-partner bought D-for for Neil shortly afterwards as a surprise birthday present. She ended up being called D-for (short for D for Dog) as the most likely dog names did not appeal. They spent many happy times together in Deptford Park where they got to know lots of other dogs and people. Neil does not have much reason to be there now but still enjoys it when he does. People still remember D-for. Neil keeps her remains in a wooden casket as he does not know what to do with them.
Neil wrote the poem below.
The emptiness echoes as I walk through the door
because you are not there any more.
My soul feels a vibration and not that of the soft pad of your paw
as you roll around on your back on the floor
But I'll not be sad
I cant do that
Because my soul feels the vibration of you not being there anymore
My heart warms and I begin to glow
as I know the memories in my soul and my heart will never go
I'm not sad
I'm really glad I had a dog called Deefer


Young Africans Hope For The Future
Children of the small Ghanaian Town of Kwahu-Tafota, taking time out from play to pose for a picture. The children featured here are amongst those who will benefit from the work of the charity Friends of Tafo. http://www.friendsoftafo.org/
Friends of Tafo is a UK registered charity that aids, inspires and facilitates sustainable development in education, health, employment and infrastructure in the town of Kwahu-Tafo. The charity's work is a creative response to the death of Gyearbuor Asante, a close friend of the TV producer Humphrey Barclay (Gyearbuor Asante played 'Matthew' in Channel 4s sitcom Desmond's). During the extended funeral observances marking Gyearbuors death his family formally adopted Humphrey Barclay as a mark of acknowledgment and respect for their great friendship. Gyearbuors family also happened to be part of the local royal family so the adoption became a kind of invitation to become a chief in the role that Gyearbuor might have taken up had he lived. Thus was Humphrey Barclay the white English old Harovian installed as the Nkosuohene (Development Chief) in the ancestral home town of his recently deceased friend. His formal and newly familial connection with the town enables him via his work with Friends of Tafo – to make a real difference there.
A Children's Hospice
The Helen House Project has been running for 22 years. The seed was sewn when its founder, Sister Frances based at an Oxford convent, befriended the family of a local terminally ill child and looked after the child from time to time to give the parents some respite. This eventually developed into the creation of Helen House, the worlds first children's hospice. Much more recently Douglas House has been established nearby as a hospice (or respice as they call it) to meet the special needs of young people too old for Helen house.
The staff team believe that in their work with the terminally ill, in addition to the many things they do to help enhance the quality of life of the residents, it is possible to help them prepare for as good a death as is possible. This manifests as a hope rather than a plan as it is obviously not possible to determine specific outcomes in relation to the quality of experience of bereavement.
It is left to families to set the pace and extent to which they can take on the significance and implications of a childs diagnosis. For some just crossing the threshold for the first time is a major step towards acknowledgement and acceptance.
Some children die at the hospice, others who've received care there may have to spend their last days in hospital. A standard and deliberately unremarkable part of the initial tour for potential residents and their families is a visit to a special room set aside from the rest of the building for use as the peaceful last place for the body of a dead child or young person.
The room is decorated very simply. The families who use it are free to temporarily personalise it with favourite toys, pictures and anything else practicable and meaningful to them. The only usually constant feature of the room is the presence of a burning candle which, once lit, will be kept alight until the childs body is taken away for burial or cremation up to a week later.