On the 1st November The RAF Museum at Hendon will launch an exhibition about airmen of African and Caribbean Heritage who have served in the British Royal Air Force. I am interviewed in the film loop.
In 2005 I co-produced an exhibition of photographs and texts about Bereavement called LIGHT AFTER DEATH. One of the 28 items in the exhibition was a reflection on war memorials from a New Commonwealth Afro-Caribbean perspective: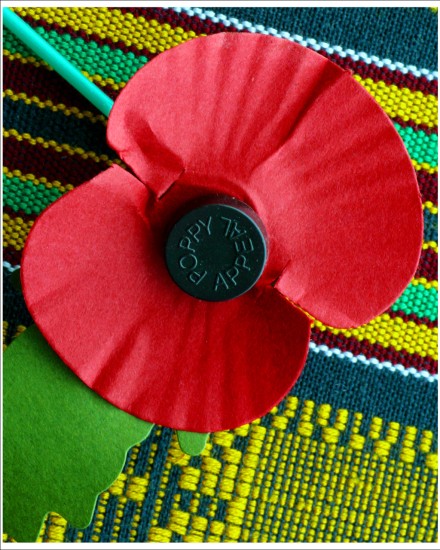 (Kente is an Asante ceremonial hand-woven cloth from Ghana)
Every November on Remembrance Sunday special services are held at war memorials and churches all over Britain. A national ceremony takes place at the Cenotaph in Whitehall, London, in memory of the men and women who were killed during the two World Wars and other conflicts.
I served in the Royal Air Force in the 1970s. Over twenty years later, quite by chance, I met some West Indian World War ll Army veterans at a tiny exhibition at the Imperial War Museum about the African, Asian and West Indian contributions to the British war effort. One of the men had served in the British army during World War Two with my late Jamaican grandfather. When they found out about my military past they insisted that I join them at the Cenotaph in Whitehall at the next Remembrance Sunday ceremony.
Before that time I had never given much thought to the sacrifices of those killed in conflict and had certainly never thought of marching down Whitehall as part of a contingent of black ex-servicemen. I attended Quaker Meetings for many years, and now tend towards pacifism. What on earth would I be doing there? I was finally persuaded when they made it clear that it was really important for them that there was the possibility of a continued black presence at these kinds of events after they had died. They were worried in case people forgot that the fight against Hitler and all that he stood for was won with the help of all sorts of people who didn't fit the stereotype of the brave white war hero depicted in film, fiction and documentary.
To my great surprise and relief we got a very warm welcome from massed the crowds as we marched around the streets of Whitehall. I felt immensely proud, very emotional and powerfully present to the memory of my late grandfather and his distinguished war service.
Robert Taylor at his RAF passing out parade in 1975